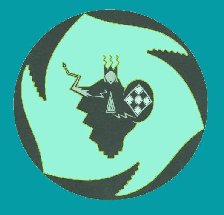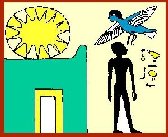 (15) Society, Politics and the Lion Path
Undertaking the Lion Path would be hindered, even thwarted, by devoting one's time to well-meaning group protest or "social reform", let alone treading the tainted labyrinths of ordinary politics. None of these methods can lead to incorruptible and lasting social change as they all avoid the root problem of humanity: our current psychological/spiritual condition. That root problem requires individual search and self-discipline for the answer. The solutions that can transform our society are not found in institutions or groups as such. They can be found only through concerted yet individual efforts that eventually form a harmonious network of consciousness and motive.
Some of the pitfalls in political enterprise were noted in the introduction to the English translation of Jules Verne's City in the Sahara by I.O. Evans. (It was published by Ace Books in 1960 as Book Two of The Barsac Mission - La Mission Barsac.)
"In my introduction to Book One, I put forward a possible reason why so remarkable a work [was] not hitherto translated into English. The continuation of the narrative [in Book Two] suggests another reason, that the notion of a super-scientific community ruled by criminals seemed beyond the bounds of possibility. [Yet now] we have seen such communities - not mere cities but nations - compared to which the City in the Sahara seems almost tame.
"Here Verne's prophetic gifts misled him only by falling short of the mark. Yet the story remains an example of the symbolism which he could use so effectively. His Blackland typifies much in our civilization, its triumphs of technology and its material advances compared with its backwardness - indeed with its retrogression in moral and spiritual development, the threat implicit in its very nature that the misuse of its mighty powers will end in its own destruction."
Bravo, Evans!
That the political quest for fame, admiration and power is not only bitter but fruitless was first clearly enunciated by Leonardo da Vinci in his private journals preserved in the Codice Altantico:
"I would not live on other men's breath [and] they who themselves go about adorned in the labours of others will not permit me my own."
The full import of these words, however, was not really clearly explained until some five centuries later by one of the finest though little known sociological and psychological minds of our times, John Iggulden. In his book Breakthrough (Chapman & Hall, London, 1960) he succinctly voiced the basic outlook of the relatively few among humans who seek control over others and play the deadly political game of greed and power through technology and science:
"Our whole beliefs and the glorious future of our Great Democracies depend upon this point - that we believe Man must return to the oneness of the primeval ooze. In the clash of philosophies in which we are engaged we must first strike at this primeval myth that human beings have souls. For the one who does not care what happens to the body is forever beyond our reach."
Iggulden's own spokesman, Martin Green, comments:
"Yes, you have done much. You have coupled fear and terror into a philosophy, and out of that you have spawned a dogma, and this dogma you have grafted on to half the world."
Not only that, but such people have made the same mistake over and over again.
"Who better qualified than the historian to look forward into Time and to unravel, if he can, the tangled moving of future events? At his fingertips he has the knowledge of what men have done in the past, he has discerned patterns and systems in the workings of time which has passed, and this knowledge he can apply if he will to the time which is yet to come. Men change, nations rise and fall; power groups lock horns in titanic struggle; and still motives remain unchanged. New figures have filled the sinister vacancies with fearful regularity. It's a long unbroken story of the same wanting to terrorize and be terrorized in this ancient tradition of death and slavery."
Green then sums up the refutation of such foul means and motives in his final conversation with the character of a prominent journalist, Andrew Forbes. Forbes:
"If you wanted them you could have everything that most men have only in their wildest daydreams - fame and honour, and a position in the world which would let you play a vital role in affairs. When such men see someone who could so easily have then turn his back on them it worries them."
Green:
"Surely it will do no harm to have people worried about that? I would like to think that it might lead some of them to start keeping a sharp eye on the men who do achieve fame, honour and power. For if these men have won these things because they want them, and not indirectly through what they have done, then they are dangerous men. The vanity of such men has always been a curse to the world.

"I can look at both sides of this coin. I've had the opposite of fame and honour, and lack of any position or influence to help me to do things that needed to be done. From down there, where you get a worm's eye view, below everything, I had my chance to examine fame and honour and saw them for what they are.

"How poor a man must be inside himself if only the applause of other people can convince him that he exists! [Shades of Leonardo!]

"This desire for fame and honour is nothing more than that - a need to have other men agree that you have been stronger, luckier, braver or wiser than most. This tells all that needs to be known about the inner uncertainty of the one who hungers for fame. Have you ever wondered whether fame can possibly change one's own knowledge of oneself? Isn't this what counts? What we gain from being tested by experience?

"I am the same man when I look at myself as I was ten, fifteen years ago; older, of course, more experienced in some parts of life, and now I look with some distaste on some of the actions which events seemed to force on me; but still seeming the same man to myself."

"How could this be changed if I dragged myself as far as I could into the limelight and swallowed thirstily all the praise and admiration I could engineer for myself. The man with that thirst will never see it quenched! If I had the need to believe what other people said about me, then I should have believed what was said about me ten years ago, and if I had believed that then, I would have been crushed into despair about myself. I was angry then, and nearly soured, I admit that, but perhaps this is where I learned my distrust of fame. It seems fortunate for me that I had it this way around. It is more usual to have fame before disgrace, for no one is more easily thrown into contempt and disgrace than the man who has let himself become enslaved to admiration.

"This is the condition on which fame is issued - that it can be taken away. Does this seem heresy to you, as a dispenser of fame? No matter, it is an answer to your mystery."
Forbes:
"But it is not an answer that many would understand."
The positive aspect of this brilliantly realistic summation was given in the nineteenth century by that obscure genius James Pierpont Greaves, who wrote in his posthumously published letters (London, 1845):
"All that we are asking for society, as society, we must ask for man, and far more. Suppose all given to society that we ask for, all going on as progressed, yet man would not be satisfied … Man wants what society did not deprive him of, and more far. Man did not lose a system, nor any systematic advantages, he lost a nature. Man's misery arises from a defective relationship with Spirit [and] we sadly mislead when we offer him success and not the nature he needs. Before society can be reorganized, it is necessary to reorganize the elements with which it is composed. Now men, women and children are these elements … Love will realize man as the moral harmony, provided he seeks to be associated with it.

"Each individual must for herself and himself seek this reconciler. This is not a social or societarian measure, it is of the will of each. There is no mode of social union that can be a substitute for this individual union."
This is also the central message of the Lion(ess) Path - path of heroines and heros. There is an added and also practical point that within our molecular mortal bodies, in the secret storehouses of vast numbers of unused brain cells and DNA genetic components, lies the key that we can turn so as to initiate this process of re-relating to and entering a higher order of gestation. Our present body is a seed meant to germinate into something more miraculous than itself. Whether it does or not is our choice and within our power.
About the same time as James Pierpont Greaves, and a whole century before John Iggulden's deep discussion of our soi-disant democracies, the keen observer and traveler William Burckhardt Baker wrote in his Cilicia and its Governors (London, 1853, p. 107):
"By this constant change of oppressors the people are always falling into fresh hungry hands which must be satisfied, lodged and maintained. The whole energy of their Councils is directed to the support of their members at the expense of the people. A useless, unprincipled oligarchy is ruinous to the Country and to the Treasury. Individual despotism is always to be deplored; but an oppressive oligarchy is the perfection of tyranny."
The peoples of the democracies of our times are living under such oppression, with self-preservation measures built into the laws enacted by the party clique in control. Even with elections or revolutions these cliques change only in name, not in psychological type or character. The bottom line here is that mankind or humanity as a whole is very malle-able and can be molded to react any way its currently controlling leaders direct - whether they be the leaders of an upcoming revolution or those of a long-term unchanged rule.
Why humanity doesn't learn becomes, then, a consequence of its leadership not learning. That in turn results from the very nature of the political power struggle: to gain power in any of the prevailing systems of societal power structure, one has to successively make compromises that more and more impair integrity. Then, when one has gained a position of power, one must impair integrity still further by inevitably ordering or condoning a ruthless, unjust or cruel act. This is a self-reinforcing process that ensures the continuance of unethical behaviour at the top, and the course of human history exhibits this pheno-menon clearly and unequivocably. Thus the only true advances in humanity occur in those individuals who are able to throw off the paralyzing conditioning emanating from a corrupted apex of governmental control.
The unworthy leadership at that apex will eventually be rendered ineffective by higher than human powers and thus in effect they would be impeached by a higher congress. Since November 7, 1999 (the installation of manual override - selective interference with evil without bringing the entire biosphere to a halt), the fate of the earth has been in the hands of its planetary guardians who are well beyond our human level of evolution.
What lies beyond our Predatory Ecology?
Just as our political institutions in reality operate from the principle of "might makes right", so the ecology of our world reflects this in its de facto bullying of the weaker by the stronger, and is based upon the fundamental question, "Who eats whom?" Yet there are deeply symbiotic pockets of existence even within this predatory ecological system, for life is older and stronger than death, just as Yes is older than No, as was shown in Part One.
Twentieth century human technology and overpopulation have exacerbated this predation into one overwhelming struggle between humans and all other life forms. Human beings, under the sway of irresponsible oligarchies, have become like cancer cells that end up in a suicidal destruction of the body of their host, mother earth. But nature has always been not only one step, but an endless series of steps beyond man. The remedy for our damaged ecology is no longer in human hands, and that will become more and more evident.
Terrestrial predation is unarguably cruel: all animals must eat other things to stay alive themselves, and there are exceptions to even the plant world's general beneficence, such as strangler trees and parasitic and insect-eating plants. In most cases the victimized life- form is eaten alive - the worst form of sadism the Marquis himself could dream up in his journey to sodom.
Such a system is inevitably destined to self-destruct, with the human takeover of the planet spearheading and accelerating that fate. In thus acting as agents of dissolution of the present natural world, human leaders and their biophobic technology fit well into a much larger plan for eliminating not only predatory ecology but its very basis, the molecular state of matter as we know it. Human anti-ecological activities are being used to promote a transition to a non-molecular substantial state wherein energy and substance are so closely connected that one is scarcely distinguishable from the other. What is implied here is that there are worlds of life-forms beyond our ken, beyond our quinto-sensory reach, to which all beings of innate nobility and beneficence will be ineluctably led. What we have called the Lion Path is simply the way of that leading. It is interesting to note in this regard that the present condition of our rare, life-bearing planet may be considered like that of a great egg. An egg is not a womb and cannot of itself eliminate the growing tide of pollution and poison within it as the embryo approaches completion. The very enzymes that promote embryonic growth also create the poisons, that, in turn, trigger off other enzymes to produce the pecking or biting reaction that finally frees the hatching creature. Largely due to humanity's massive ecological misconduct, the poisons today are building up rapidly within the great Egg of Earth and they will inevitably lead to the hatching of that egg into something else. How all other life-forms, as well as our own, take place in this process, is the unfolding of the Lion Path.
The Higher Ecology
There is another cruelty inherent in predatory ecological systems: "lower" forms of life being held in bondage and prevented from evolving further because they are essentially needed in the life-support systems of more "highly" evolved forms. Examples are legion: beneficial bacteria in the intestinal tracts of insects, mammals and humans, the specialized protozoa in animal circulatory and nervous systems - leucoytes, erythrocytes, neurons
But in the higher ecology, predation is replaced by symbiosis, in which different life-forms help each other to survive, much as most plants emit oxygen and need carbon dioxide - a little glimpse in our world of what it is like in higher worlds. Also, in those worlds it is not the more lowly beings who are enslaved to higher ones, but rather it is higher beings who with their energies sustain the lower ones. A hint of this liberating principle is given in the book Pr-m-hrw or The Coming Forth into Day of the Ancient Egyptians. Its chapters tell us that each member (limb) of the higher body "is a god", i.e. is endowed with the power of a higher being. The Way Out of Our Ecological Predicament
Emily Brontë (1818-1848) and Jacob Boehme (1575-1624) both saw the cruel predicament of all life-forms caught in a basically predatory ecology, even though they both lived well before the twentieth century when ecological issues began to surface.
Our predatory ecology, certainly not within the capacity of any human to devise - is hence directly traceable to a fallible god, a concept thus shown to be as demonstrably realistic as fallible popes and fallible governments. As an old and wise Chinese proverb says, "Even the gods and the immortals may make mistakes."
Jacob Boehme speaks repeatedly of a primordial loss of balance, a falling "out of the temperament" as he would say. And Emily Brontë in her remarkable French essay, Le Palais de la Mort (The Palace of Death), reaffirms that a profound "intemperance" or lack of balance lies at the root of all the ills of mortal embodiment in our molecular universe. Those insights came very independently about two hundred and forty years apart: Boehme's illumination, leading to the writing of his Aurora, occurred in 1600 and Brontë wrote her inspired piece in 1842.
Both saw that the current sad state of things was essentially temporary. He spoke of the great healing and restorative power of the Divine [pleromic] Mercury, which would reinstate joy and song in every heart. She saw this world as a larval caterpillar, and the world's transformative heritage as a resplendent winged imago. She writes (our translation):
"As the ugly caterpilar is the origin of the splendid butterfly, so is this globe the embryo of a renewed heaven and earth whose least beauty infinitely exceeds mortal imagination."
And Boehme very specifically writes of this same Pleromic Process within the individual in his Signatura Rerum, chapter 10:
"All the seven forms of Nature [the pleromic powers] must be purely precipitated if the universal shall be revealed; and each form carries its own process to be brought out of the wrath into the clear light of the glorified body. There several seeds within you must all unite into one love-will."
This process, he further explains, is consummated in the power of the Pleromic or Divine Mercury [the final stage of the Lion Path]:
"Even thus it is in the philosophic work, when the Mercury shut up in death receives into itself the baptism of love. Then all the seven forms can manifest themselves through this love … Now the love-will is set in opposition to the poisonful Mercury [of the unawakened mind]: If you will make heaven out of earth, then give the earth heaven's food, that the will of the wrathful, poisonous Mercury may give itself over to the will of the Heavenly [Pleromic] Mercury."
What are the Evolutionary Stakes?
"The people living on this planet have to break with the narrow concept of human liberation, and begin to see liberation as something that needs to be extended to the whole of the Natural World." [from A Basic Call to Consciousness, the Iroquois address to the world in 1977 at the United Nations Conference on Indigenous Peoples]
Those who are usually miscalled "the lower mammals" are actually beings who, on the average, are more love-oriented than the human species, which, as a whole, has been too preoccupied with mind- and power-games to give love a high enough priority. Thankfully many individual exceptions exist.
What will generally happen, therefore, as the Earth's Lion Path proceeds, is that most "lower" mammals will increasingly respond to their superconscious minds, until finally these higher minds - endowed with far more intelligence and deeper reasoning than ordinary conscious minds, trapped into omissive logic - will irradiate these beings with luminous and far-reaching insight. That same consummation awaits the plants, who on the whole tend to be even more benign than animals. And remember, for those humans who follow a correspondingly beautiful path [learning to balance their knowledge and power with their love], an appropriately more beautiful evolutionary form and consciousness is waiting.
If we are to evolve on the Lion Path we must learn that the feelings and rights to exist of other species cannot always be subordinated to our own. Such attitudes have simply endangered the fragile, intricately balanced web of life on our planet - a web upon which we too depend for our physical existence. Voltaire, in his eighteenth century Philosophic Dictionary, wrote of these attitudes:
"How absurd, how platitudinous, to say that beasts are machines, devoid of knowledge and feeling.

"Is it because I speak to you that you decide I have feeling, memory, ideas? Well, suppose I don't speak to you; let us say you see me enter my house with a distressed air, look uneasily for a paper, open the bureau in which I remember putting it, find it and read it with delight. You then deduce that I have experienced feelings of distress and pleasure, that I have memory and knowledge."

"Now extend the same view to a dog who has lost his master, who has looked for him all over with piteous cries, who enters the house agitated and restless, who goes upstairs and down, from room to room, and at last finds the master he loves in the study, and shows his joy by the gentleness of his cries, by his leaps and his caresses. Barbarians then seize such a dog, who surpasses man in capacity for friendship. They strap him to a table and discover in him the same organs of feeling that are in themselves. Answer me mechanist-vivisectionist, has nature arranged all the springs of feeling in this animal in order that he should not feel? Has he nerves in order to be unmoved? Do not suppose such a pointless contradiction.

"Limits of the human mind - they are everywhere, poor doctor. Do you want to know why your arm and your foot obey your will? Do you seek to know how thoughts forms itself in your puny understanding, or how an infant does so in the womb of a woman? I could provide you with a folio of questions to which you could reply with only four words: I have no idea."
After Voltaire's rare common sense, when we look around and see what technology has done to the planet, we can scarcely avoid adding Mark Twain's assessment in his Letters to the Earth that "an oyster has hardly any more reasoning power than a scientist has". Supercilious minds have repeatedly tried to denigrate these two thinkers by calling them mere satirists, feeling uncomfortable that both of them were realists of clearest insight who simply used pungent humour and acute observation instead of academic jargon. Twain also wrote in the same Letters to the Earth:
"Man is the Religious Animal. He is the only Religious Animal. He is the only animal that has the True Religion - several of them! He is the only animal that loves his neighbour as himself, and cuts his throat if his theology isn't straight. He has made a graveyard in trying his honest best to smooth his brother's path to happiness and heaven. He was at it in the time of the Caesars, he was at it in Mohammed's time, he was at it at the time of the Inquisition, he has been at it ever since he saw the light - he will be at it somewhere else tomorrow. I consider that the strongest count against his intelligence is the fact that with that record back of him he blandly sets himself up as the head animal of the lot."
It is interesting that, of all the religions, it is the currently nonpolitically dominant ones that allow for the spirituality and higher development of non-human species. The Native American nations speak reverently of the Wolf People, the Otter People, the Badger People, the Coyote People, the Bird People and so on. The old pre-Christian tales of the European tradition speak of helpful trees, birds, animals and even rocks. In short, it is the shamanistic religions above all who allow for the spirituality of other than human life (all shamans and shamanesses have animal allies). The great religions of Ancient Egypt (in which animals and birds portrayed divine attributes), and Persia, were not unaware of their ties with all other life. Even current Hinduism regards the cow, the hanuman-monkey, the garuda-bird and the king cobra as holy creatures.
In its inclusion of all nature, the old Mazdean religion, especially in its pre-Zoroastrian roots, is notable, for the Magi taught that all life, and not only the human, had a higher destiny. This was a basic Mazdean tenet, extending not only to animals but plants as well. Indeed, at the end of "the time of long domination of evil," all the life of the earth is due to be transfigured. Zamyat, the feminine higher being in charge of our planet, is actually a form of the Divine Mother, Spenta Armaiti, who also appears as Arshtat and Ardvi-Sura-Anahita (High-Sovereign-Immaculate-One). It is She who nurtures and dispenses the living fire of immortality, the glorious xvarnah (pronounced "khvarnah").
She provides all the life-forms of earth with transfigured, higher bodies of luminous, nonmolecular substance-energy as recounted in the ancient stanzas of the 11th and 19th Yasht. She is also called Savagaetha: She-Who-bears-the-Heaven-of-Light. And in Yasna XXX, verse 9, one finds the resplendent vow and prayer:
"O grant that we be among those chosen to bring about the Transformation of the Earth, for there do our thoughts tend."
The later Pahlavi sacred scripture, the Den-kart, which preserves many ancient and even pre-Zoroastrian teachings, tells us (book 9, chapter 28) that in its final metamorphosis our transfigured earth will be transported to a higher starry sphere by the power of the ever-living fire, the Xvarnah, "that glory which can never be seized by force" as the ancient Gathas tell.
So we see that the evolutionary stakes are high indeed and that the human species is not necessarily the sole prize winner, let alone the evolutionary favourite. We as humans need to cultivate a more admirable humility in our spirituality, as well as a more realistic appraisal of our place in the overall scheme of things. All this the shaman's Lion(ess) Path can teach us if we will.