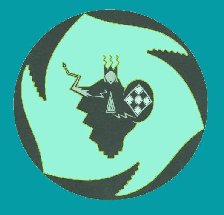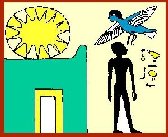 (9) Awakening to the Shamanic Reality in Your Life
The following text is taken from a lecture given by Musaios in 1999 at the School of Consciousness and Transformation of the California Institute of Integral Studies, and begins with some remarks he was addressing to Dean Janis Phelps:
You mentioned my coming from Canada. I came across the border and the American customs officer said, "I have some good news and some bad news. The bad news is that the computer selected you for a special check. The good news is that it won't take very long." I didn't know how good that was. Anyway I went in there. There were two customs officers there, an older one and a younger one. They wanted to know where you're going and why you're going, whether you have any bombs and stuff like that! So I said, "Well, I've been invited to talk down there." And then he got interested (the older one) and he said, "What's the subject?" and he didn't say it as if he was interrogating me any more. It became part of a conversation. Well, I thought, how am I going to explain shamanism to the customs? I thought a moment and said, "Well, it's trying to take the grind out of your daily routine. " Then I saw a black smudge on the other guy's finger, so I said, "Goodness! What did you do to your finger? Did you crush it?" He said, "No, I just got that grease from inspecting too many semis." So we left on good terms. That happens when you can in effect make the situation change from a negative and adversarial one into a positive one. In short, that's practising shamanism. So actually what I said I was going to do up here was also done for him there.
Now, let's see. We have so much to do and we have about two hours. I thought it was better to do it in the morning. You see between about 2 and 4 in the afternoon (with daylight savings time it's between 3 and 5) there's always an enervating l ull and it's good if you can try not to schedule classes then, unless it would be difficult to do that. It's a low energy time in any case.
First some hints about what shamanic reality really is. I should say where I'm coming from as far as shamanism is concerned. The other religions - and the more institutional-ized they are the more this happens - they deal in words, not in what you can do. A striking example of this is found the early history of "civilized" - or should we say syphilized - Hawaii. There were the Kahunas - you know that term? - the Kahunas were the shamans of Hawaii, and they were approached by the missionaries, quite zealous missionaries, trying to convert them to Christianity. And the missionaries had already done a very good job so far: they had translated the Judeo-Christian Bible into Hawaiian. The Kahunas were presented with it to study it, and they said, "Let us look it over for the next two weeks and we'll come back." But when they came back they brought with them their worst possible cases of illness and disease. The missionaries in some consternation then asked, "Why this company of sick people?" "Well," the Kahunas said, "we read your holy book and your Teacher (Jesus of Nazareth) said, "If ye follow what I say ye will not only be able to do what I have done, but greater things. " You've had two thousand years to practice and you must be terrific by now. So we brought our worst cases for you to heal them." Indignantly the missionaries replied, "Well, we don't deal in that. We deal in words, teaching." So the Kahunas said, "Well, that's just talk. Then you can't really do anything like your Teacher did?" And they said, "No, that is not our business, " where-upon the Kahunas replied, "Well, we consider that hypocrisy." And then the missionaries proceeded to pass laws against being a Kahuna, making it illegal since the Kahunas' attitude would block them."
But that tells a lot. These people were shamans, and shamanism is a religion made operative, no longer a theory. You do things. And like any power, the surgeon's scalpel in the hands of a murderer will kill while in the hands of a surgeon it heals. It's not the scalpel's fault. It's the intent of the consciousness that's using the instrumentality. So like any other, the shamanic power can be also used to do obstructive things in the wrong hands. But the great majority of shamanic practice is very benign. And if we wonder about the dark side, the black side, look at any other religion: Christian church leaders dragged people through the Inquisition - burning people with the dishonest excuse that it would be sinful to draw blood. Hence you could burn heretics (read "those who disagree with you) to death and that was fine. But every institutionalized religion has its dark side. Even in Tibet, a king there who wanted to go back to pre-buddhistic shamanism was killed by fanatic Buddhists. It was one of the few times when Buddhist missionizing became violently aggressive, mostly contenting itself with denigrating its predecessors or rivals.
Now let us get back to shamanism after those introductory words about it. Desire is very important and you don't stifle or repress it, and you certainly can't kill it - it's too strong, any kind of desire, not at all necessarily sexual: the desire can be towards anything. What you rather have to do is redirect it towards your highest vision. Since you can't kill it or lock it up, you have to work with it, not against it. Thus you re-direct it. You make your desire an essential part of the vision quest.
You've heard of the vision quest? The Plains Indians came up with that last phrase which is apt: it's your highest vision. And last but not least, you don't scatter it too much by desiring one thing today, another tomorrow, and yet another the next day. A lot of people do that because the force of desire to manifest what is desired always works. What you do if you scatter it is that you get a little result here and a little result there and a little result over there, and they don't add up to a hill of beans. But if you focus it, then something happens that is noticeable, that you can really see. So you have to learn how to focus it, not scatter it. Scattering it is like promiscuity on any level. Thus one can prove on a quite objective non-ethical basis that promiscuity does not work. If it's too promiscuous, it's too scattered to be effective. More technically put, whatever is scattered increases its entropy in terms of the quantity of energy dissipated and so made inaccessible for further use. It's not accessible any more. So promiscuity always ends up in non-attainment, dis-satisfaction, and with no long term happiness.
But how to get enough judgment? How are you going to get the judgment to know what is right and good for you? Well that takes time, and hence a certain amount of trial and error, mistakes and false starts are inescapable. But don't just keep on making the same mistakes over and over and certainly don't end up hitting your head against a wall to feel how good the liniment is. All that is counterproductive. So learn to aim right and to focus your wealth of desire.
Now while on these hints, learn also to know that what things seem is not necessarily what they are and I have something there to illustrate that. Now this will be a little excursion. It's not just into mathematics, it's just into common sense really, and it's within the scope of all of us whether we've been trained in mathematics or not.
We all know that 6 x 2 is the same as 2 x 6. We've been taught this. Also, 3 x 4 is the same as 4 x 3, right? Well it's not right in certain branches of recondite mathematics which I won't bore you with. You might say, that's impossible to understand. Yet, in order to get something left over that would work with reality, quantum physics had to admit such pairs of numbers that multiply differently when the factors are reversed.
But to get back to very simple arithmetic, I needed a lot of cans of cat food. I tried "Fancy Feast" - I have two wild cats who like it - but the tins didn't work for my demon-stration here: they wouldn't stack stably. But my good friend Rocky Beeman has a cat who lives on "Gourmet" cat food and that worked! The cat incidentally has been satis-fied - these are all empties. Now here's twelve in the form of 2 x 6 stacked tins. When you say two times six, it means "twice six" or six taken two times. That is what 2 x 6 means. Now imagine that twelve people are fleeing from an enemy and they come up to a river with just one boat on the bank, but it could take six of them at a time. There are twelve people so they'd have to take only two trips to get them all safely across the river. Some of them on their second trip might get caught if their pursuers moved very fast, but most certainly would make it. Now let's take 6 x 2. This is two taken six times and the boat can take only two at a time so it would have to take six trips and somebody's bound to get caught. The other boat was able to do it in two trips and avoided that danger.
So 6 x 2 is not the same as 2 x 6 - not when you're fleeing, not when you're in danger. And it's the same with 4 x 3 and 3 x 4. You can do that too. Three times four is four taken three times and you have transported all the refugees in one less trip than four times three. Three taken four times is more dangerous by one more trip, thus giving the pursuers an extra chance. So by little cat food cans you can show in a very simple way that things aren't necessarily what they seem at first glance, and that x x y need not at all be the same as y x x under all circumstances.
What we're dealing with here really is all these things are situations, and practical shamanic applications always boil down to some kind of relationship magic: how to make a relationship with a higher power; how to reinforce a positive relationship between two sentient beings; how to diminish a hostile relationship, and so on.
Such relationship magic is very important. Now I'll go on to what may seem like a more abstract level but which really isn't. I don't care for abstraction. Abstraction is a sub-stitute for clear thinking because the Latin root ab-stract means to draw something away from something else. The root tract is "to drag or draw" and ab means "away from". So you're drawing away things out of what you're considering in order to simplify, to make it easier to understand. In other words, abstraction is a cop-out from the complexity of reality. So abstraction isn't at all the great profound thing it's cracked up to be, and too many word-mongers and too many of the wrong type of academic approaches stress ab-straction as something desirable as an end in itself. Actually it's more like strychnine - a little bit is all right for the heart but a lot will kill you. The worth of abstraction depends on what and how much we take away. We have to be as careful as with strychnine.
Now I want to go to where I was promising to go to: game theory and a theorem in it which occurred to me some time ago. It actually was when Norbert Wiener and I were lecturing in Naples together. He asked me, I remember, over a glass of wine in Ravello, "Do you think I should have written the book Cybernetics?" I said, "Why, what makes you say that?" "Well," he said, "it could be so misused." I replied, "All technology has been misused - that's its history, and it's also well used. If someone else had written it they might not have put in the ethical caveats you did." He seemed be to satisfied with that - he was a very conscientious scientist - more than those who advocate things like cluster bombs and radioactive, uranium-tipped bullets and anti-tank shells.
The theorem of game theory that I thought of at that time was, if you, if you have two adversaries or opponents or simply competitors of equal intelligence and equal force, the one who is least ethical will win because his strategy is least constrained. If they agree on something, the least ethical can break his word and do something different and win by that dishonesty. If they agree to abide by certain rules, he can break them without warning. So that theorem is true with a big unless - a very interesting unless. Unless there is a force, a power inaccessible to the unjust.
If you access that power which is inaccessible to intended abuse, then you're never there when the blow falls, which is of course the best way - that's the ideal defense in karate too. Just don't be there and manipulate in such a way that when the opponent is off-balance the attack comes. Don't be there when the blow falls. The shamanic power inaccessible to the unjust helps you to do that.
Now we're getting into what I call time-surfing. Time is like a big ocean. It goes in waves. Even a fisherman knows he can't successfully leave harbor except on the right tide. Now the word "tide" is the same as "time"; "Whitsuntide", "Eastertide" for example. So tide and time are the same and both wait for no man. This is an instance showing that the ancient poet-bards really made language. Grammarians didn't make language. Poets did. Grammarians are sort of like vultures who come and pick the corpses of what's already dead. Living language was made by poets, and they realized that times and tides were similar. They realized that time had waves in it like the sea. Hence, ideally, no experiment is repeatable because the time isn't the same. We often hear talk about being in the right place at the right time. But the right time is more important than the right place, or it wouldn't be the right time. Time is funny, funny-strange rather than funny ha-ha.
Consider a point in space. Well we're in 3 dimensions, right? You can check that by looking up in the corner of a room and seeing there are three mutually perpendicular lines that meet. That shows you are in a three-dimensional world. If you were in four dimen-sions and you looked up into the corner there'd be four mutually perpendicular lines meeting at the corner of a four-dimensional room. We can't even conceive that. But we do know we're in 3D. So a point can contain a multiplicity of lines - you can imagine those three lines shrinking to a point of space. A space point is a wonderful thing; it has many mysteries which we won't go in today.
But consider a point of time. We will do the same thing that we did with space - we took a line and kept shrinking it. Now we take an interval and keep shrinking it. It gets shorter and shorter and shorter - until we get to what we call a moment, the Now. But the minute you say "now" it's gone and there's another now. Yet each moment of time (any moment) holds the whole universe in it as far out as the farthest nebula. So one point of time can hold all of space for any number of dimensions. It doesn't matter what dimension you are in, one moment could still hold it all. Thus time is infinitely more powerful than space.
Now you can see this in practical life. Real estate is expensive, yes, but there are many executives that have three or four homes, big estates - that's space. They have all the space they want but how much time do they have? Most of them have little time for themselves at all. They are running around from this moment to that - they cannot afford to have free time. So time is much more expensive to get into your life than space, and you'll find that out as you grow. Because as you grow up and you ineluctably enter society's web, you'll find that just operating the housekeeping of your life takes up a lot of time and you have hardly any left for thinking, fore real reflection, for inner growth.
And especially in our civilization … We promised everybody - well not we, but somebody did. Whoever started the whole thing with machines, they promised they were going to give us a lot more time. But no, machines ended up by and large like whips driving us to go as fast as the machine went. So we have less time with more machines, actually much less.The way to get around that apparent paradox is to say, well, okay, since I have no time that I can really call my own, or very l ittle of it, I'll use all the time
Now consider "to enchant". Well the word gives it away: singing (canto in Italian). So to enchant is to sing something in or out of existence and that was also called weaving a spell. Incantation is actually an "en-singing" - the "en" or "in" means to use singing to do something with. The poets knew it instinctively.
We go on, then, to invocation. Well, the voc (e.g. "vocal") means the voice, hence sing-ing. Then you might say, what is the relationship between that and a cow, that word in religare, the Italian for "to re-tie" - to tie back to what you've lost hold of. Thus religion is recovering, like what Plato called remembering; and remembering is a kind of resurrection because dismembering is cutting into pieces. Remembering is putting back together, so it's the same thing as religare, religion.
You see how much we can learn from word roots. I think it's the next project I really want to work on because language is so close to us all, and this is not taught in the schools. The English language is marvellous because it has Celtic roots, and it has Greek and Latin roots; even some Arabic and Persian ones like "checkmate", meaning the Shah (or king) is dead. So English is an ideal starting point to teach how language really is poetry. And that's what it is in any language - evocation to call forth meaning.
Even in the Bible, in the translation of the first chapter, there's fiat lux - and I remember the probably apocryphal story of Henry Ford going to the Pope and saying he didn't like the phrase fiat lux because there was a "Fiat" in it! So, both in the Christian gospel of John and the Jewish book of Genesis, in the beginning was the creative word, and that's the stuff of shamanic invocation, and the effective basis of any religion is shamanism in some form.
Shamanism is operative religion. That's what it is. It's the kind of religion that says, No, we don't just deal in words. We don't endlessly argue. We heal, we do things. We may things happen better and more efficiently than ordinary human capacity could. Humans need to be taught. If they think they don't need to be taught, they cause a lot of damage. But the way there're taught is not by authoritarian figures that arise among themselves saying, "Do this, do that." We have enough of that from the history of governments and institutionalized religions. Human beings are really taught by contact-ing the access within. It's like we're all rooted in a tremendous tree (one of the prime symbols of shamanism is the Great Tree). And to get anywhere on the tree you don't jump out of the life-force of the tree by a mere external jump from one branch to another. No, you go down into the root. And when you go down into the root you can come up anywhere else you want, riding on the living sap or life fluid. There's always a pathway from the root to any part of the tree.
For this reason I wanted you to seeing this drawing - a very ancient Siberian shamanic concept of the Tree. [Now holds up picture of the Tree of Life of the Selkup, a North Siberian people, shown on the cover of this book.] This is the lunar side and this is the solar side. Now the Sun is female and the Moon is male, contrary to the Latin languages that went the other way. In German it's still "die Sonne" and "der Mond". For instance, in the oldest Selkup shamanism the Moon is male and the Sun female. But the old Sun goddess is almost wiped out because Christianity came in with a Big Father god and then the Selkup shamans, for instance, thgouth they had to compete and made their Sky Father Num more powerful than their original Great Goddess, Ilynta Koto which can be rendered as "Great Living Granny". Her two related male powers (Num and Kyzy) were fighting with each other like Horus and Set in Ancient Egypt. One (Kyzy) was doing destructive and destabilizing things and one (Num) was doing beneficent and stabilizing things: like two forces of nature (cf. katabolism and anabolism) that should be kept in balance. They were in metal armour and fought so fiercely that the heat of their anger caused their armour to melt, thus welding them together. Living Granny then went out with a big hammer. She banged on them and separated them and then commanded, "You stay here and you stay there and you each do your thing." And so that's what happened and the world has been like that ever since, with Kyzy and Num in place.
Looking at the drawing again on the front cover, there's six on the lunar side (a crescent half-circle) and seven on the solar side (a whole circle). Now that's very interesting because in the "Pleromic Practice" of the shamanic Lion Path the seventh power graces and fulfills all the previous six and gives them new life. The six take up 180 degrees in the Selkup drawing - but the seven use up a full 360 degrees, thus the seventh power is shown to have added an entire half circle - as much as all six powers taken together.
Then they show eight male and eight female reindeer - a solar double pair on one side and a lunar double pair on the other. The old Selkup shamans also taught that there is a great horse power and that the reindeer powers come from that divine horse. Such an idea also pervades tantric shamanism in pre-Vedic times. The Sanskrit word aurva means the great submarine fire, symbolized by a horse storming out of the sea like Neptune's horses. Aurva became the later Hindu god Hayagriva ("horse-neck") who was then inherited by northern Buddhism. This symbol denotes the submarine fire below the bottom of the sea: the vulcanic understructure of the whole earth that breaks forth in volcanoes, is the power of the cosmic horse, the eight-legged Sleipnir of the old Norsemen. And if that colossal power ever got loose and out of bounds, well then time as we know approaches an end.
[Now holding up an Indo-Tibetan shamanic picture of Eight Divine Horsemen around a central figure] Here the central figure has a little animal coming out of a pouch on his left arm. It's a mongoose. Interestingly enough that animal was also sacred in a ncient Egypt because it fought poisonous snakes. The name of the mongoose is very revealing though Egyptologists don't mention it much. It is Khatri or Destroyer (of the enemies of Light). There was a kind of Egyptian shaman-priest who wore leopard skins denoting their animal ally, though the shamanic base of Egyptian religion has never been done justice to as yet.
The Selkup shamanic drawing is old and probably no longer painted, much less ceremonially performed, because under Stalinism all shamans were deliberately wiped out in much the same way the American, Australian and Canadian governments tried to wipe out their indigenous peoples. Deliberately the native languages were suppressed and/or made "illegal", and the shamans were of course the upholders of the language and culture: they knew all the old myths, history and magical songs. In Siberia most of them were imprisoned or killed. It was really genocide because when you take away a people's language and culture you're killing their soul. And this is what happened, as it did when missionaries invaded Mexico, South America, California and Hawaii.
Always the bunch of humans with the better technology culturally (and physically!) obliterated those with less technology. In sum, it's very questionable how much actual good technology did. In fact, today what with the enormous increase of pollutants in air, earth, water and foodstuffs, you could have a license plate reading "Technology is bad for your health", and you'd be right. The hole in the ozone layer, for instance, has not been caused by ladies' hairspray, as it has been put out by the controlling media. It was caused principally by the washing of military planes with solvents containing the ozone destroying compounds. And those contracts to supply the solvents are very lucrative, and they're not being stopped even now.
There was a very interesting poet - returning to the poet as shaman. You all probably know the name of Rainer Maria Rilke. Rilke well before his passing wrote four short, wonderful lines that he wished engraved on his eventual headstone. Here is my own translation, which includes all the subtle nuances in the original such as the play on words between "Lider" (eyelids) and "Lieder" (songs):
Oh rose - pure contradiction,
joyous desiring, here is no one's sleep
even under so many petalled eyelids
The central empty place of hidden song.
Then Rilke sums up how we each then will feel:
Wholly clean and planless - freed from the future, I have climbed the knotted funeral tangles of departed pain.
T.S. Elliott was another shamanic poet, who, about a generation later phrases the same victory this way in the last of his Four Quartets:
The end is where we started from
[and reached]
through the unknown, now remembered gate
When the last of earth left to discover
Is that which was the beginning
A condition of complete simplicity
(costing not less than everything) …
And all shall be well
All manner of things shall be well
When the tongues of flames are infolded
Into the crowned knot of fire
and the fire and the rose are one.
It's almost alchemical here, almost the depiction of an alchemical transformation. We haven't got time to go into that but it's fascinating. Rilke also realized, as every shaman does, that everything is alive.
I brought this up once at a conference in Locarno. We were talking about electrons. Heinz von Foerster was there, Ross Ashby, and Warren McCulloch, who started out as a student of divinity and then renounced theology for medicine, and medicine for artificial intelligence. In opposition to what I felt to be blind-alley thinking, I asked, "If a Martian or an extra-galactic observer came down in a big city, say New York, with an underground, and he saw all these people going into little holes at a certain time and then coming out at other times, couldn't he make statistical laws about the movements of these people? But there would always be exceptions, wouldn't there? All agreed there could be.) Like somebody forgetting his wallet or going back to finish an argument with his wife. Well, I asked, why do you draw an arbitrary line and say, beyond the virus, it's a crystal, it's dead. The electrons are dead but we are alive. Why couldn't they all be alive? Why can't electrons be very primitive animals like amoebas, or even more primitive than the amoeba?"
Why not indeed! Well, the group couldn't answer those questions, but of course it was too horrifying a heresy for them to entertain. They didn't realize that once you draw the line and say, "This is living, this is dead", you have created the tremendous and actually irremovable logical onus of showing how one became the other. That could never be done because you can't get something out of nothing.
This reminds me of the story of the old woman. There was this young man who met a wise woman and asked her, "What holds the earth up?" And she said, "A rock." Then he asked, "What supports the rock?" And she replied, "Another rock." Then he said, "But what holds that up?" At that point she looked at him rather severely, saying "Young man, it's rocks all the way down!" And that's the way it is with the so-called physical world: It's life all the way down. It behooves us to realize that wonderful truth."
And Rilke did realize this. He wrote, "And now it's time for the gods to step out into the manifest and throw down every confining wall of my house, making a new wind and new fields to breathe in" (Neues Atemfeld is his beautifully condensed expression). Rilke continues:
Oh ye gods hidden in all things
[the life in all things - the sentience]
, now arise ye in gladness,
adding restoring being to our life now made full.
Let it be the morning of your dawning,
ye who alone are at the origin.
Then the world will arise again
and a new beginning light shine
through the broken places of our former failures.
That was a truly shamanic vision!
We are living in an interesting time now, the time Rilke predicted. The cycles are shifting into high gear and there are four stages. It's much like the installation of a new program in a computer where you have to put in one disk and they then say, now insert disk number two. Well the first of these installation "disks" comes on July 28th and the second on August 4th, very close to it. The next on September 16th to 19th and then the last of the disks on November 7, 1999. That completes the installation of a totally new program in time in "the Great Computer in the Sky".
Some of these dates have to do with and were preserved in the old Celtic festivals like Beltane on May 1st, and Lughnasadh on August 1st, which is interestingly the Swiss national day and Switzerland was an old Celtic stronghold. As for the other two ancient Celtic festivals, Samhain (pronounced "Shahwain") is celebrated now on October 31st and November 1st (Hallowe'en and All Saints Day) and Imbolc, which was sacred to the great goddess Freya, was held on February 1st, but with Christian influence it degenerated into Candlemas.
But actually the real timing was lost through Christianization: it was easier to make the old sacred times the first of all these months, and it also obliterated the pre-Christian use of solar and lunar timing. Beltane was actually at the first full Moon after the Sun entered Taurus. We have a remaining vestige of that in calculating the date of Easter from the first full Moon after the Spring Equinox. And so this ancient shamanic time is celebrated in Buddhism as the Wesak festival, Buddhism having inherited many of the shamanic practices of central Asia and India.
Wesak is celebrated also in Thailand where they have an older form of Buddhism than in Tibet. Most Tibetologists and students in the West who have absorbed mostly the self-styled "Mahayana" (or greater vehicle) Buddhism call the Thai form "Hinayana" or "lesser vehicle", a term of opprobrium. But when you go to Thailand they don't call their Buddhism "Hinayana", but rather Theravadin, or "the path of the Elders". Even there the substrate is shamanic, as shown by the amulets he wore on a belt about his waist, shown to me by the high abbot of the largest Buddhist temple in Thailand in 1992. Anyway, the so-called birthday of the Buddha, the enlightened former Prince Siddhartha, celebrates the full Moon in Taurus, the same day as the even more ancient Beltane.
Thus Lughnasadh was anciently held at the time of the first full Moon after the Sun entered Leo. That's the July 28th [1999] date I already gave you. Continuing, Samhain is the first new Moon with Sun in Scorpio and that's now our All Saints Day, November 1st. It's when the gates are open to other worlds beyond the molecular, and we can go back and forth between worlds. Good things can come in that way as well as angry ghosts and demonic entities, for the gates between worlds are open. Finally, Imbolc is now on February 1st or, originally, the Sun and Moon's entry into Aquarius. It's almost the hardest one to understand. It's when the whole life-wave gathers in its force again and begins to renew itself.
Coming back to the present, time is going faster for all of us at the end of this millen-nium. Let me illustrate that a little more clearly. I brought along a "flying saucer" - it's a little big for a saucer but it will give you an idea. [Takes out a bowl and spins it on its edge. The spinning bowl goes faster and faster, then it comes to a sudden stop and rests again on its base.] That's what's happening to time now. The pace is getting faster and faster; the inherent time waves are increasing in frequency.
Now you noticed at the very end, this process is accompanied by a very small amount of friction - it's rolling friction which is much less than dragging friction. Gravity is pulling it down more and more. Its starting position was slightly inclined toward the table, so gravity is going to keep pulling it down. The bowl, however, had been given a twist, so it's going to keep spinning too, and there finally comes a time when the force that propels it is less than the rolling friction, and then gravitation brings it to that abrupt stop as you heard and saw. It doesn't go on to infinity at all. That will mean a whole new kind of time will be launched and that's what's happening. Our solar system will be all ready for that after November 7 t his year [1999].
It's interesting how human time agrees with this, because this special Samhain is based on calculations that go back some ninety thousand years even, and it's strange that our current Gregorian calendar agrees with this rarity in indicating the start of not only a new century but a new millennium.
Well, 1999 is the last bloody year of a very bloody century too. Innocent people were being killed in Serbia for what bad Serbians did and with (which was not well publicized) uranium-tipped bullets and shells because the U.S. department of defense sold that bill of goods to NATO in order to use a lot of what is mis-called "depleted" uranium. Radio-actively it's not depleted at all. It's depleted in a technical sense only: Uranium-238 ore holds an isotope of U-235 used to make plutonium. Well, when they extract all the U-234, they call it "depleted uranium", but it's still pure uranium 238 and it's highly radio-active. Moreover uranium is a hard metal and heavier than lead. Lead has 82 protons in its atom while uranium as 92, hence is heavier and can go right through a tank. But when uranium hits another metal it bursts into flame and then it turns into uranium oxide as a fine powder that is then carried into the air by the prevailing wind currents. Highly radioactive, it also never goes away: its half-life is 4 ½ billion years! Thus using such shells is nuclear war and that has not been brought to the attention of the American people or the public in general - it's something that corporate mouthpieces like CNN wouldn't tell you but it's there. Some people know about it, however, and want to launch a protest march on the Pentagon on June 5th. Using uranium was a stupid thing to do, even for NATO leaders' own children who would be affected by the increased radio-activity. Really destructive…
Well, the old Persians had a very interesting idea that evil finally becomes stupid. That's a Zarathustrian proverb. Okay, if you want to know more about the whys and wherefores of who all these things began and developed, there are two books out there to read. One's an ancient legend. It's probably the oldest story in the world from very ancient sources - that's why there's no author's name on it. The other is about the whole shamanic reality. The first is called A Saga of Error and Glory, the second, The Lion Path.
Now let us consider some ordinarily inaccessible directions through space. If you have a room, with a two-dimensional being in this room (we'll put a skirt on it and call it she), and you took her out and put her here, she would say, "There's an infinity of directions in my world. In which of those directions did you take me out?" And you'd say, "In a direction perpendicular to all of them" and she'd say, "Impossible." Yet we know, living in a 3D world, that it's possible. In three dimensions you have "more room" than in two, that is to say, more kinds of room.
We're now in this conference room all enclosed - we think. But if we moved along in a 4D direction we wouldn't go through the floor, through any of the four walls or the ceiling, but we'd get out. You'd say impossible, just like the 2D being did. So there's another way to go which we can't see. There's always an invisible direction which we can't see.
[Question from the audience]: "Is that what's going to happen when time comes to a stop?"
Something may well come to us through one of these unsealed directions at a critical time juncture. We think we're all sealed off, but in full reality we're not. In fact you could do heart surgery on someone in three dimensions, do things on the heart without breaking the skin. So that gives you some thought about higher healing of our three-dimensional bodies without invasive methods - that is therapy indeed. This is not something imaginary. This is physically possible with a higher concept of physics. There is physics we do not know of by a long shot.
Continuing our talk of dimensions, does anyone know how many dimes can go around one? [Answer from audience: "Six".] Yes, that's in 2D. Does anyone know how many spheres, say ping-pong balls, can go around one in our space of three dimensions? [No answer.] Well, you can first get six around one and then you can get three on top and another three below. So that's twelve around one in 3D.
So we see there's more room in three than in two dimensions, and in 4D still more. In four-dimensional space 24 spheres can go around one centre sphere. This is where mathematics becomes like a bat. A bat can fly through a dark room of piano wires and not hit them. So there's the bat kind of mind, and also the use of the mind as the eagle kind - the eagle can see a mouse from two miles away. But the bat mind works by an invisible sonar, by leaps of intuition in the dark. That's what the poets do: they go in the dark of an as yet unknown reality but they never hit "a piano wire". So you can figure out with the bat type of approach what happens but you don't know how. You can land right but you don't know how you got there. So we can know, without being able to visualize it, that 40 spheres can fit around one in five dimensions, 72 in six, 126 in seven dimensions and 240 in eight.
But after eight [dimensions] something happens and it's not so comfortable or easy. So 8-dimensional space is some kind of organically unifed cosmic whole that comes together in unrepeatable fashion. And, as I said, the number 240 was treated as a sacred number on the walls of the Ancient Egyptian temple of Edfu, with Thoth, the god of wisdom, holding it in his hand. So the old priesthood seem to have known something from ancient civilizations - who knows the paths deep wisdom took?
There are legends among the Berbers of North Africa, and I got this from the letters of a British journalist, William Reginald Stewart, who was in Africa in the 1920s when it was really open and native traditions were still flourishing. He fell in love with a Berber priestess. She had been widowed from a war and had a little daughter about twelve years old. She was training Stewart and would take him around and show him what reality really could be. His letters about this priestess were sent to his friend, Max Freedom Long, who wrote about the Kahunas of Hawaii, but he never published the letters about the Berber priestess/shamaness. I got to know him and he said they were in his garage. I went all the way out from one coast to another to find them and I foolishly gave them back to him who didn't care about them. The originals of those letters are now gone and I just have horrible xerox copies. But anyway, she took Stewart to a valley and butter-flies would all flock silently about her at her call. Finally, she was killed by a stray bullet in a tribal war just before she was about to really initiate him - the women were the guardians of spiritual secrets in old Berber culture.
She told him it all went back to ancient Egypt where they used to have a Goddess religion and there is considerable proof of that in the hieroglyphic record. After all, you see, it is always the woman who actually brings forth something. A man couldn't give birth to anything. So when the ancient peoples thought of creative origins it was, logically, in female terms. A man could be a fructifying impulse, a starting point that would make the process go, but he couldn't give birth. And that explains a lot. It wasn't just feminism at all, there was a deep biological foundation for naming Goddess rather God as the fundamental creatrix.
And in the same way when we grow and transform and become pregnant with our best selves - there's kind of a higher pregnancy and we have to wait for its term. I knew a mystic, very close to me, who vowed not to eat until he could function in a higher world. He contacted a feminine Presence in one of his entranced states and he was surrounded by flowing garments of very beautiful colours all about him. And She said to him, "My dear one, if you were born now you would have no eyes." And so he got the point: it's like pregnancy, you push it too fast and you could be malformed. You have to be very careful. So that gives one the patience (and a woman has more patience than a man) to realize that yes, it take time, I must wait for my own higher pregnancy to be achieved.
To go back to the 240 now, in the ancient Egyptian number system "five" was a star. It's the centre of the magic square and it meant a new dawning (Duat) and "100" in hieroglyphs is a spiral like on a strand of a spiral nebula. Two hundred is the whole two stranded nebula. So the number 240 can be written as eight five-pointed stars around a spiral nebula.
There's a time-honoured gift in Mongolia: you give eight horses and a white camel, and this is the old magic square again, with every diagonal, column and row adding to 15 (see The Lion Path: The Big Picture, page 60). As we have seen, it also links with 240, the sacred number on the walls of the temple of Edfu held by Thoth, the god of wisdom.
There is a mostly unrealized logical principle of great service to clear and fundamental thinking, namely Yes is older than No - because something must be affirmed before it can be denied. So to annul always parasitizes on to create, and to destroy must come after something is built. There is one important biological application of these important priorities: Every parasite has an earlier, non-parasitic life-form.
The most deadly viruses are the retro RNA viruses - the one-strand viruses that can infiltrate the DNA. Now a parasite is always a later form-the tapeworm came later than its benign flatworm ancestor. We thus can ask, what is the benign origin of the RNA-virus (because every parasite is younger than its original non-parasitic form)?
Let me make a generalization at this point. No is younger than Yes in general. Yes is older than No because something has to be affirmed first before it can be denied. So life and affirmation are older than death and destruction. That means that the forces that are benign are more powerful than the forces that would destroy, and that's a great consolation, and it's built right into the scheme of things. If you have any doubts, yes, the contest may be close, but it's okay in the outcome.
If yes is older than no and we have a "no"-type thing, a totally parasitic virus, what is the benign origin of it? Because all parasites have non-parasitic origins. Well, the benign origin is a plasma because the viruses are not normally in a string. They're closed in a loop, and they can unclose and can loop again. And the retro viruses can introduce them-selves into the DNA of somebody and stay there, and then be passed along to the next generation because they're in the DNA, and when it reproduces, it reproduces the virus. Very clever. So it's the first subversion, the virus, the first Trojan Horse subversion. The interesting thing is that the benign origin is the way life-forms proceed. And parasitism is always a later choice.
Let us not also forget custom-built mutations. You can have whatever you want. If there is a repeat interaction with the environment that arouses the being's desire, "Oh I like that" or "I want to protect myself against that"; and if that's repeated enough, things are changed for the offspring. And then the changed RNA writes itself into their DNA and you've got a new mutation - but custom-built, not random, and hence effective, non-teratological and non-lethal. That is the actual way of evolutionary change proceeding, and then natural selection has something transformational to select from.
Darwin himself realized that natural selection alone could do nothing. If wouldn't be enough because all natural selection says is everything is preserved as long as it's passed on in reproductive age. But natural selection by itself wouldn't give anything to choose from - it would all miraculously have to be there: the bacteria who could withstand antibiotics would have to always be there. Nonsense. They, the bacteria, make those who can withstand. They adapt. They change their DNA, and they change it intelligently because intelligence goes all the way down. Natural selection unaided by custom-built mutation is simply the bare statement that heredity exists, and that is by no means enough to furnish the variety of species.
Another common fallacy, particularly among the computer and artificial intelligence people, though it is also prevalent amongst True Believer Darwinians, is, if you show them a nail or a carpet tack and ask, "Is this purposive or is it random?" They at once answer, "Oh no, that was purposely formed: that's for a carpet. " Yet a leaf is infinitely more complicated than the tack. In other words, anything humans make is purposive, but anything humans didn't make is "random." Now isn't such a really ignorant put-down, aside from its lamentable logic, terribly xenophobic?! -- it's against all the other life forms. In other words, it's bunkum.
Now we have this wonderful [mathematical] series 1 + 2 = 3; 2 + 3 = 5; 3 + 5 = 8, and it goes right on. If you take those ratios: 8/5, 13/8, etc., they all approach but never quite reach one half of the sum of unity and the square root of 5. Moreover, the ratios of successive terms will never reach it because it's all infinity. Thus we are able to write what happens at infinity even though we never get there. That's interesting. That's why mathematics is such an important adjunct to clear thinking in religion and philosophy.
I once was talking to a theologian and he said, "God is infinity." Well, I asked, which one? You see there are myriads of infinities, some so close to each other as to be separated only by 0.577215! Thus we can calculate the distance that two infinities are from each other, even though both are infinite.
You can even have an infinity that is infinitely bigger than another - so the second one is like zero to the first. There's all kinds of zeros and infinities, and schools should teach this. It is not hard to understand, though it may be unfamiliar. You see, a lot of things that seem difficult simply go against the conditioning that we've already had. So you say, oh that's brilliant because you find it unexpected. It may just be that someone has dropped the customary blinders and sees what is actually there for the first time.
And that brings us to logic. Imagine there are two logicians: A and B - B for better logician. So B says to A, "Would you admit that a conclusion is implicit in the premises?" A says, "Of course, that's the definition of a conclusion. B then says, "Would you also admit that the logical process, the apparatus of getting to the conclusion, is to make explicit what was implied in the premises?" A says "Yes, naturally." "So," continues B, "in other words logic is there for those who are too stupid to see what was there in the first place."
"My goodness," A says, "now I have no subject left." "Oh yes," says B, "you have everything left" "And," poor A asks, what is that" "Well it's the art of choosing the right premises."
B was talking about having the insight to choose the assumptions that really get somewhere. Well so much for logic. It's a servant, not a master. And so a good shaman treats it. That's about it. Are there any questions?
Question: Just a technical question? I saw this book The Lion Path by Musaios. Who wrote this book?
Answer: Someone I know.
Question: That's you?
Answer: Well, I don't know about that. I was having a tea party at a Zen group and they were kind of snobbish, and they said, "Oh who is your master?" "My Self," I said, "but I spell it in two words." And then they asked, "What is your favourite haiku?" I said, "I'll tell you the one I really like best: Samsara is nirvana. " I could have put it in a much blunter way: Those who can see star dust in dog dung have achieved enlightenment, as a saying of the secret Diamond Vehicle or Vajrayana goes.
Question: I wanted to ask about the dates that you gave. What significance do they have for us this coming year, those dates?
Answer: Let's say this much. You'll find out more about it in The Lion Path. Those dates (July 28th, August 4th, September 16th to 19th and November 7th) are like installation for manual override. For instance, suppose you had an automatic program on a plane. If you don't have manual override you're in real trouble. A lot of the mistakes they made were with too much automatization. Then even in an emergency you can't go back to manual. If the computer goes crazy through a defective program you're at the mercy of it.
And let me say at this point what a computer is. A computer is a recorder of a process of thought. It's nothing more than that. And that's why computers don't think in any sense other than implementing pre-recorded thought. Now a big argument rages about artificial intelligence - they'll argue about it from now to doomsday because they haven't defined it. Each side means something different by intelligence.
Now if one means by intelligence, behaviour that seems intelligent, and is intelligent as far as it goes, then a computer of course is intelligent because it's the recorder of a thought process, and that record is called a program so that the logical thinking can be applied to new data. But if you mean by intelligence someone who can really create a whole new idea and a new concept like the mathematical genius Riemann or the musical genius Mozart - ah, the computer isn't that at all and is quite unintelligent, though because of it's systematic precision and data storing capacity, it can reveal implications that its programmers missed. That is the advantage of deploying a thoroughly systematic thought recorder that can play the thought back while operating new data. The computer, in short, is essentially a recording device for a precise process of thought.
Thus you will always need manual override because the person who thought this all out, whose mind the program reflects, may not have seen all the possibilities. In that sense the program is no better than the programmer who made it, and that also applies to so-called learning programs. You always go back to the limitations of the human being whose thought the computer is re-implementing.
Moreover, you also have another theorem that comes into play here: nothing that is a construct of something else can be wiser than the entity that constructed it. The theorem is true by definition because a construct is after all just that. The computer can go faster and remember better than us. But that's not relevant to the point here. The steam shovel is also much stronger than we, but we don't feel demeaned by that. The computer can indeed magnify our performance in the mechanical functions of the brain: like memory, or collation or rule application. These are routine mechanical things and it's good to be relieved of them. That's why human beings dried up on repetitive jobs when they were employed to do things like this -- -at should be machine stuff, and that's where the computer can be a great blessing. But it's not primarily being used that way.
Unfortunately the computer is being used to control people through being able easily to manipulate great masses of data, and it's very bad for education because you're putting an artificial screen between the child and the sensorily experienced world. You're not allowing the child to see nature itself, which is much more profound than any human thinking about it or model of it. When you use computers predominantly in education, you're putting someone's idea in there and they're looking at that idea. That's fine as an adjunct, but it shouldn't be the basis. Nature and sensory experience will always have vaster potentials than any idea of any human.
Oh, I got off the subject, didn't I? A little bit, but not too much because it is related. The dates I mentioned before are the installation stages of "manual override" so to speak, but it's not actually going to be human-manual. The powers that run the universe (we certainly should know by now that we do not!) couldn't interfere before by the fundamental law of equal justice. Because if you interfered in a situation where, say, a baby would die in a Chicago fire in a horrible death and the mother says, " Why didn't God save my baby?" Or centuries before, a young woman cries, "Why were the Roman soldiers allowed to come into our homes and rape and pillage?" The way the pre-override law went (and it would still exist up to the July 28th date I gave you) was that if higher powers intervened in one case, by their own justice, they would have had to intervene in all cases, for one needless suffering is not less important than another. And then the whole schoolhouse of Earth would be brought to a stop in short order.
And what would that do, you might say. What would be so bad about that? Well, that would hinder a lot of people from fulfilling their development. So a big, difficult choice had to be made. For perhaps even some souls would be wiped out - the whole individuality wiped out permanently. And so they had to consider it along the lines of, There's temporary suffering, which will come to an end, or there's eternal wipe-out; and decide, well, temporary suffering is better than eternal annihilation."
So you couldn't interfere in one case without interfering in all, and that would bring up this other problem. So nothing was done to interfere in the Great Computer in the Sky that keeps track of all events and their interactive consequences. All this goes a long way to answering why the good powers didn't do something about the horrors that have been continual throughout history. And that is why it's been allowed.
And now, what will happen? Something new: manual override. Then interference can be selective. Why is that? Because the school is coming to an end, because the very school building of Earth is threatened. The earth is being polluted and the biosphere ravaged. There's a lot of eco-crime going on, both corporate and military, which makes it more and more difficult for people to lead normal lives: they're being intruded upon by high-tech war horrors, by food and money crises, by all kinds of things, and a constant whining and buzzing of advertising. Buy this! Do this! Get this! Buy, buy, consume, consume - because you need a consumer basis to run this whole shebang. And the bottom line is: How much money is there to be made and the devil take the hindmost! This is not just true of the United States, it's true everywhere. So manual override means that selective interference can happen, and that means selective obstruction and selective help. There's not much more to say at this time. That's about it.
Question: I have a question regarding your analogy of the computer to a recorder. I once read that Mozart wrote about his own symphonies and he said he was just a recorder, and they just came along and that he didn't actually do anything creative. He was just copying them down.
Answer: Right, but you have one nuance wrong. He didn't say he didn't do anything creative. What he did say is that his ordinary self didn't do the creation. You have to distinguish between the two selves here - his ordinary self and a much more advanced self. Jacob Boehme said the same thing when he said, "My pen couldn't go as fast as the thoughts rushing into my mind." But that's when you contact your own higher self - it's not another being. So there's really no contradiction here because that's what creativity is: it's contacting the higher reaches of your own potential.
Question: So maybe some people are born with more contact to it?
Answer: Yes, with more access. A hundred percent right. But anybody can practice it and improve. Let's see what time it is … it's almost time for your post-hypnotic digestion [it was lunch time]! I didn't want to keep you for more than two hours. Whenever I talk to people like this I'm getting things that I never thought of before too, so we all have a lot to think about.
Question: Just one thing. I wonder, when one uses the term, something is a sham, does that come from shamanism?
Answer: No, that comes from shame and shambles. Shamanism comes from a Turco-Mongolian root actually. The Tungus word shaman means "one who knows". Literally a gnostic: someone having experiential wisdom. Thus the word means just what it is, contacting a supra-human power, and it isn't related to English word roots at all.
Question: The selective interference that can happen. Can that come from our higher selves?
Answer: I don't know how it'll come, although it will involve more than us. It could be geological: the path of tornados has changed, the path of hurricanes, the sea level has changed. There's all kinds of strange things going on geologically; the submarine fires are getting restive. So the whole paths of powers are changing and we don't know why.
But scientists, even establishment scientists, are saying less and less that we have conquered nature because they're beginning to see how wrong that sounds. When a tornado becomes a huge vacuum cleaner, lifts up a semi and deposits it half a mile away, they couldn't do anything like it. In fact, they can't even build a pyramid. And archaeologists, who haven't studied engineering, keep saying, "Oh yes, you could by large groups and ramps." No way, if you go there and see those stones brought up that height. And we can't do that, even on our modern buildings. We don't know what they did…
Well, if there are no more questions, that about wraps up shop for now.
Next Chapter